Holiday Crafting with Vet Wrap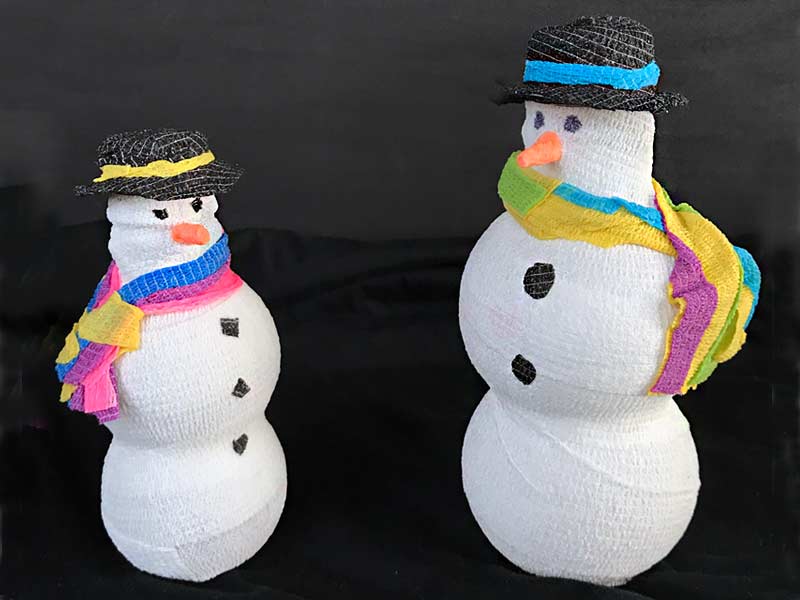 The holiday season is upon us, and for many of us this means time spent decorating the house - along with the myriad of other activities that all lead up to the big day. In the vet wrap workshop, we have been as busy as Santa's elves finding fun ways to incorporate vet wrap into the holiday décor. As we looked around, we discovered that vet wrap can be used in many fun decorations and even works well with an assortment of other craft items to make the finished design even more delightful.
So, grab out your craft supplies – scissors, vet wrap, ribbon, burlap, Google eyes, etc. – and get ready to create some amazing holiday vet wrap art and crafts of your own. 
Holiday Can Gift Containers
Pringles aren't just fun to eat, the cans can also be recycled to make fun gift containers (think socks, scarves, craft supplies, or any number of smaller items), candy boxes, or table decorations. Just decide what your theme will be, choose the appropriate colors and design your piece. Creative gifting can sometimes be the most meaningful.
Mini Gift Bag Stocking
Use a template such as a cookie cutter, or freehand your pattern, and make mini stockings perfect for tucking a small bag of candy or a candy cane inside. Once the treat has been taken out, the stocking makes a fun ornament for a wreath or tree.
Here Comes Glass Bottle Santa
Glass bottles are perhaps the favorite medium for Christmas holiday vet wrap craft projects as the wrap sticks to the glass easily- and this project is no exception. For this Santa piece, we also incorporated a bit of red ribbon and an old baby sock to add a bit of dimension to the piece.
Ice Cream Container Table Decorations
Another great item for vet wrap art projects is the Talenti ice cream container. Here we combined some festive ribbon with vet wrap, carefully free-handed the letters, and now have a fun table decoration. Add some greenery or battery-operated tea lights - or tuck a string of battery-operated lights inside - and you have a unique centerpiece (In the event that you would rather the kids not work with a glass bottle, the jar-like Talenti containers are plastic, so you can let them create their own designs without fear of dropping/breaking).
Juice Bottle Frosty
These adorable snowmen where created using Pom Wonderful juice bottles. While the Pom company makes three sizes of juice bottles, we opted, for this craft, to use the medium and small sizes. If you are looking to add some extra fun, you could always swap out the vet wrap scarves with ribbon, string or even a child's sock.
Santa's Long-neck Beer Bottle Helpers
To create this trio of elven fun, we started with some long-neck beer bottles, wiggle eyes, a long strand of burlap string, red and white pom-poms and some small glue dots in addition to the assorted colors for the elves. Using a light flesh colored tone, we first wrapped the lower portion of the bottles as a face, then added the facial features. On the striped-hat elf, the hair was created by looping the string in a figure 8 pattern, then using a glue dot to hold it to the bottle. We later hid this by in creating the hat. Like the string, the eyes and pom-poms were attached with the glue dots. For some extra dimension, we drew some strands of hair on the blonde, and for the ears we used a couple of layers of the vet wrap.
Ball Jar Snowman
Yet another Talenti inspired craft – albeit the inspiration for this piece was first seen on a Ball jar. Simply choose the colors to suit your style, add in some raffia and perhaps add battery-operated lights and you are ready to go!
Soda Bottle Penguin
What would the holiday décor be without at least 1 penguin? In the Vet Wrap workshop, the holiday décor always has at least one penguin included (usually more) to help welcome in the season. This one was crafted using an Italian soda bottle, a foot of red ribbon, and an old sock whose mate had been lost.  To add extra fun, make the "beak" by cutting a couple of squares (roughly ½ "x ½"), folding them into a diamond and then pressing just the bottom half of the diamond to the bottle while leaving the other half sticking out.
Pretzel Container Santa Clause is Coming to Town
This fun piece was made using an empty pretzel container, its lid and a Solo cup. After crafting Santa's outfit, we wrapped a strip of white vet wrap around the lid being careful to leave a bit of overhang to hide the gap between lid and container. We then wrapped the cup in red vet wrap and added a strip of white for the hat.
In addition to being a unique centerpiece, this could easily be used to hide a gift in, or to fill with homemade treats for gifting. One could also add in a string of battery powered lights to add to the fun.
You're a Mean One, Mr. Container Grinch!
Perhaps the favorite piece of the season is the Grinch. Made using yet another Talenti container, as well as the lid. If you struggle with making vet wrap faces, there are how to directions available (here's one we used).To create the hat, we wrapped the neck of a wine bottle with three of layers of vet wrap then rolled it off the bottle. The multiple layers added some stiffness while still being pliable enough to bend the hat. The hat was then set on top of the lid and then adhered by using the white wrap. We opted to only loosely set the lid on top, so that a light could be added at a later point – if desired.
Rudolph the Red Nosed Reindeer from Bottles
No set of holiday decorations would be complete without the "Most famous reindeer of all."  So, we decided to make 3 of them. As brown is not as common a vet wrap color, we first wrapped the short bottles with a light orange, then used paint to create a brown reindeer tone. We then used glue dots to adhere eyes and a red pom-pom nose, some twine at the top, and vet wrap "collars" for added color. The antlers are some twigs, with one reindeer getting some extra color with a set of battery-operated string lights 'strung' on them.
And there you have it - ideas to keep all hands busy with vet wrap this holiday season. Have ideas of your own? We would love to see what you create! Be sure to tag us (@vetwraps) in social – Facebook, Twitter, Pinterest and Instagram to show us what craft projects you come up with. And for more Vet Wrap supplies, click here.  Can't wait to hear from you!